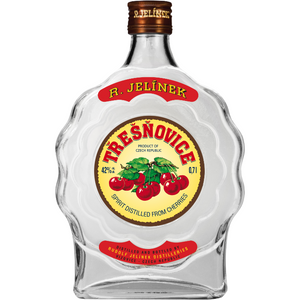 Jelinek Bohemian Kirsch 700ml 42%
700ml 42% alcohol
Cherries in the best form
Cherry brandy is a distillate characterized by its cherry aroma and smooth taste, which is accompanied by a light tone from the pits. Distillation has a long tradition in Wallachia, and it is no wonder that, in addition to plums, here in a region typical for late varieties of dark cherries, their distillation was also started. These thrive at the foot of the Beskids and achieve an ideal ripeness and sugar content.
It is precisely these varieties of cherries that are processed in our traditional recipes, while using modern technology. Ripe cherry mash with pits undergoes a three-stage distillation and before bottling is aged for at least a year in stainless steel vats, thanks to which, a harmony of flavour and aroma together with overall "roundedness" is developed.
We recommend serving cherry brandy at room temperature, since it is the only way to achieve full development of its flavour and aroma.
---
We Also Recommend
---