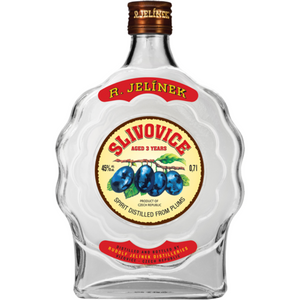 Jelinek Slivovitz Clock White 3 YO 700ml 45%
700ml 45% alcohol
Classic three year-old slivovitz
Slivovitz is the most famous Czech fruit distillate, which has been prepared for you in Vizovice by RUDOLF JELÍNEK from the best plum mash since the 19th century. The production processes have been passed down from generation to generation by our master distillers, and together with the latest technology, the highest quality is ensured.
When producing genuine Jelinek slivovitz, traditional practices are adhered to. Based upon which, the aged plum mash passes through a three-stage distillation process, which gives the slivovitz purity and smoothness. The pits remain present in the mash the whole time to supply the resulting beverage with tannins for a specific flavour. It is precisely the presence of pits in the mash together with three-year aging by which the slivovitz acquires a soft, rounded fruit flavour with pleasant undertones.
Slivovitz is properly served at a temperature corresponding to its surroundings, since it is the only way to achieve the full development of its flavour and aroma.
---
We Also Recommend
---