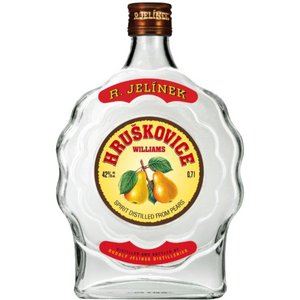 Jelinek Williams Pear Brandy 700ml 42%
700ml 42% alcohol
Williams pear brandy is a clear distillate characterized by its delicate fruity taste. Pear brandy is not yet a widespread distillate in the Czech Republic, unlike it is for our neighbours to the west, but we firmly believe that you will be won over by its delicious fruity flavour and aroma.
We built a plant for the production of pear brandy in Chile, South America, since it is one of the largest producers in the world of the pear variety called Williams. This variety is suitable for the production of distillate due to its aroma and flavour. We shipped our technology to South America, so that by three-stage distillation, this excellent drink with its delicate flavour and aroma can be created for you. Of course, it is all under under the supervision of Vizovice master distillers.
A flawless unification of aroma and flavour is achieved during transport in vats across the ocean. Rocking of the ship leads to mixing of the distillate, which creates its roundness. The distillate is a unique combination of the interesting properties of the Williams variety together with traditional recipes, which guarantees the highest quality.
We recomend consuming pear brandy slightly chilled, since this distillate of summer fruit develops its full aroma and flavour at a lower temperature than slivovitz.
An excellent combination is known as the "pear ritual", where pear compote is served on a toothpick in a glass of genuine Jelínek pear brandy.
---
We Also Recommend
---