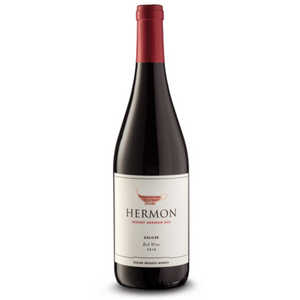 HERMON RED
750ml 14% alcohol. Non-Mevushal.
Mount Hermon Red exhibits fruit notes of berries and cherries, along with nuances of Mediterranean herbs, chocolate and orange zest. This medium-bodied red blend is vibrant and flavorful, making it a great everyday drinking wine.
Ready to enjoy upon release, the Mount Hermon Red will remain in excellent drinking condition for some three years from vintage. Give this versatile wine a go with grilled lamb chops, hearty vegetarian moussaka, or a plate of assorted cheeses.
---